Dossiers
Cette rubrique présente l'ensemble des dossiers que publie la revue Mémoires en jeu depuis son premier numéro (septembre 2016). Vous y trouverez la présentation du dossier, la bibliographie et pour chaque article, son résumé. Chaque article du dossier fait l'objet d'une double expertise par des spécialistes universitaires internationaux. Il est possible d'acquérir l'intégralité du dossier en PDF pour la somme de 10€ en écrivant à memoires.en.jeu@gmail.com
---
Investigation on the contemporary memorial literature At the present, there are plenty of writers who, at a moment of their work or over its entire length, ponder issues of memory. These issues, frequently tied to collective violence, allowed to revisit the modern...
Suite
---
Just after the recent terrorist attacks in France, the public reaction was very closely linked to a desire to memorialize the sites where the crimes had been perpetrated. At the same time, many research projects have been launched to archive and analyse testimonies, even to support the...
Suite
---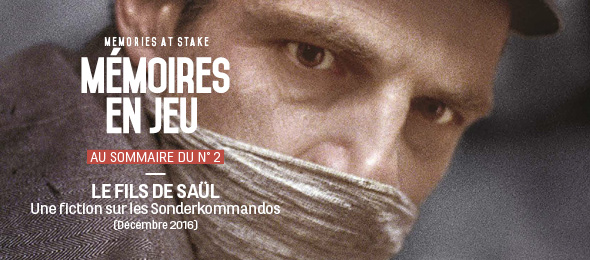 In 1985, Lanzmann's Shoah restored dignity to those labourers of death, mainly Jews, who where forced by the SS to work in the extermination camps. However, Shoah didn't inspire the fictional films that followed. Despite some attempts, they never managed to rise...
Suite
---